Kid Cudi showed up on Saturday Night Live (SNL) in a dress, and the internet exploded. Presumably this was exciting because it was a man, in a dress. There is a long history of American popular culture misrepresenting trans people with harmful stereotypes, tropes, and appropriating ballroom culture, etc. This appearance by Cudi (or Cudder as he is fondly called by fans) felt like a re-run of a tonne of problems seen before (for an intro to the missteps of American film and TV in portrayals of trans lives see Disclosure: Trans Lives on Screen, a documentary by Sam Feder that premiered at Sundance in 2020 before being purchased by Netflix.)
It is being said that Cudi's dress appearance shows how far the disintegration of gender norms has come. But doesn't how big of a deal it was show the opposite?
Supposedly this was a homage to Kurt Cobain. The anniversary of his death was April 5th (1994) and Cudi's SNL perf was on 10th April. Cobain wore a similar dress on the cover of the Face magazine in 1993, Cudi's was made by fashion's golden-child-of-the-moment Virgil Abloh. Less of a homage, the SNL dress was really the announcement of a capsule collection collab between Cudi and Abloh's Off-White™ label (which they later decided would include the dress after the overwhelming response.💰)
How to Homage
The homage thing always did feel a little thin, seeming as the dresses have little in common besides being floral and being, well, dresses. The fit in particular is markedly different. Designer Abloh has since said in an interview with GQ that the difference in fit was deliberate:
'The dress fits the way it does precisely on purpose. It doesn't cop out at the very end and get loose at the top so it looks more safe. No, it's a dress from a loved one's closet… For me, it represents personal empowerment despite any social norm. It vehemently represents confidence. It's Cudi knocking on your television screen saying, "Hey! Be yourself."'
It was meant to be risqué. Sure.
I'm not the first to be unconvinced by the 'empowering' gesture (Cudi's embodiment of the macho 'power pose' pulled in the closing of the SNL episode, pictured above, speaks to the epitome of cis male sovereignty—past and present) and confused by the broken-internet response.
On the one hand, designers like Thom Browne have been sending men's looks of skirts and dresses down the runway for years, Young Thug wore one on the cover of his 2016 album, and Cobain's original looks 100% grunge-times, thrown-on, and zero-fucks-given (Cobain wore dresses and skirts throughout his career until his untimely death) in his less attention seeking, more "I'm wearing this cause I want to" way (it wasn't an undercover PR stunt for an upcoming clothing collection.) In a way: a man in a dress = NBD.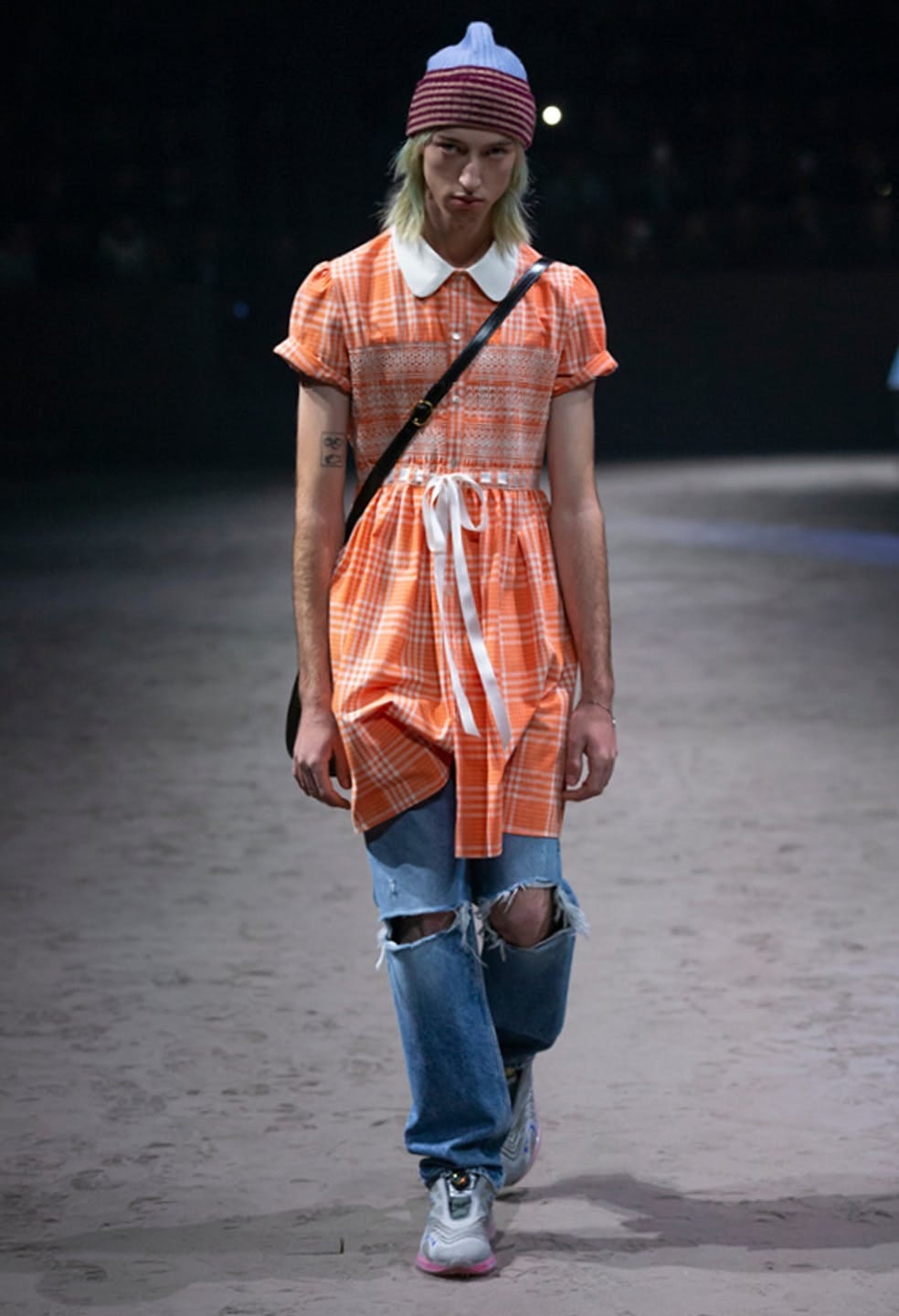 On the other hand, there is the aforementioned matter of what it means for a cis gender straight man to be praised for simply wearing a dress. Members of the LGBTQ+ community have spoken out on the double standard of this. For instance:
Model/Activist Munroe Bergdorf wrote on Instagram: "as fab as it is to see cis gender straight men embracing femininity through fashion … let's remember that they also won't face nearly as much hatred or the physical danger that visibly queer folk will when they do the exact same thing."

@sarahgabriella84 wrote in the comments: "it feels insulting that cis hetro men get praised for what trans people get bullied and killed for. For them it's a trend, a costume … for trans people it's life and death."

The creative director of unisex fashion label Art School, Eden Loweth who uses 'they' pronouns said: "[Kid Cudi] will manage to circumvent the day-to-day dangers that most people like myself would face when we wear a similar thing on the street."

Academic researcher and trans awareness trainer, Dr Kit Heyam, said he felt disappointed by Cudi's use of his platform. "I do feel frustrated that [he] chose not to acknowledge that the stakes for him, as a cis man wearing a dress, are so much lower than they are for trans women and trans femmes."
---
Cudi has been outspoken on his love for Cobain prior to 'the dress' moment. In August 2020 the rapper posted his new tattoo of Cobain wearing a Daniel Johnston shirt, depicted as he was during the 1992 VMAs in the shirt honouring Johnston's 1983 album Hi, How Are You. In February 2011, Cudi tweeted nothing but the Nirvana frontman's name, that August said "Im obsessed with Kurt Cobain. I wish he was still here, so he could teach me guitar tricks", and released a film during the same year where he Pays His Respects to Kurt Cobain in a visit to his prior residence. In 2015 Cudi also tweeted "Never not thinkin' about Kurt Cobain."
Cudi's 2018 collaborative album with Kanye West, Kids See Ghosts, contains a sample of Cobain's posthumously-released solo track "Burn The Rain." In a 2018 video with GQ where Cudi breaks down his 'iconic tracks', Cudi explained that Cobain has "always been an inspiration" to him, "I try to use him as my muse whenever I can."
The Man on the Moon Trilogy
In ways, it is hard to blame Cudi for doing something wrong on SNL. He's just another somewhat-aging musician trying to make the most of a new album. And his openness around his struggles with mental health have been a godsend to people all over the world. The themes of instability, loneliness, his experiences with anxiety and night terrors, run as common threads throughout his work.
Ààron of RapVisions, @therapoholic, posted a clip from the big single 'Pursuit of Happiness,' off of 2009 debut studio album Man on the Moon: The End of Day, just yesterday with the statement that "Kid Cudi still holds the title of making the greatest psychedelic rap album of all time." Psychedelic? Keep that theme in mind. The debut Man on the Moon album was the first of what would turn out to be a trilogy (the latest, and third, album being the most recent—known as Man on the Moon 3)—commented on by RapVisions as potentially "one of the strongest trilogies in music history."
I still attribute Man on the Moon: The End of Day from 2009 as a major soundtrack to a certain time my life, as I know many others do. It is one I revisited heavily during the Worst Winter—what I'm calling the dark end of 2020—whilst micro-dosing MDMA in experimental grit to stick around. The Worst Winter nods to Guattari's personal reference to the 1980's as 'the winter years'—post (the failures of) May '68 and the Italian movement of '77, into what he anticipated as "a social depression extending far beyond any private sphere" and aligning with his own political depression during this time.
Man on the Moon: The End of Day has solidified itself a place in my all killer, no filleralbum list. One that deserves to be listened front to back, and shines brightest when it is. The song Cudi performed in the dress, Sad People, contains lyrics that will be speaking to many right now—particularly in light of the pandemic.
In the dead of the night I have these dreams
What'll happen to me? Will I burn out?
Have I been wrong? What does it mean?
All these things, can't understand why
Say something's wrong with me, I know
By myself alone drivin', I go
[…] Lettin' go, ooh, this ain't livin'
I swim in pain
Never drown, keep my head up above the waves (get it, get it)
I don't run and I won't hide from fate
Late night, ooh, this is when I come alive, when the dream's made
Take me, ooh, just don't leave me
[…] This for the sad people who keep the blunt burnin'
We off on a journey, you learn me
Back to SNL. What's Going On?
SNL is a sketch-comedy and variety show that has been running on US late night TV since 1975. The guy who started it, Lorne Michaels, is known as a kind of legend in the industry (particularly for spotting early talent and launching the careers of many now ultra-famous actors and comedians – including Kristen Wiig, Adam Sandler, Eddie Murphy, Amy Poehler, Mike Myers, Will Ferrell, and Tina Fay, to name just a handful) and remains the head of the whole thing today at age 76.
I started paying attention to it at the end of last year, as it seemed like the choices of musical guests (each episode has a musical guest) were indicating something about the cultural moment. With some investigation, I found out that the cast members have a large say in who the musical guests will be. One current cast member, Pete Davidson, appears to have a particularly significant influence on the musical selection that is based on his personal tastes and network (he is a long-time Cudi fan–turned friend–attributing the rapper's music as helping him through difficult times including episodes due to his BPD diagnosis). We could do a whole piece on Davidson alone, but that's another story for another time.
At this point I should note, I get confused about the level of funny SNL is perceived at. Perhaps it is a specific taste in (American) humour that I just don't get – but I rarely laugh out loud, or even find the sketches bearable to watch. Apparently, the show is known to fluctuate in relevance, largely dependent on the strength of the cast (current member Kate McKinnon is known to be the one holding the show's quality together now, and Kenan Thompson frequently regarded as the funniest.) The show's political commentary during the Trump times gave it a huge boost, with the president's antics providing a wealth of fodder for SNL to feed from. What happens to the show post-Trump is still TBD.
Back to the musical guests. Prior to Kid Cudi, Machine Gun Kelly made his TV debut performing songs from his new/latest album Tickets to My Downfall. The upcoming musical guest is Miley Cyrus – stay with me here. There is something going on in pop music that hasn't happened for many years, and these two are signals for it.
I'll continue this cultural dissection in a Part Two. Stay tuned for the next installment.